Les élèves du collège (4ème et 5ème) ont participé au projet plurilingue « Par ma fenêtre » en leur cours d'anglais. Prenez plaisir à découvrir leurs rédactions et les vues de Moscou non conventionnelles.
From my window
I can see the Kremlin, I live on the top floor so I can see further than the floors below, I really like to sit looking out the window especially when it snows because I have not seen it many times.  When I look out the window it is usually when I have to think about something or relax.  When I lived in Madrid, I wasn't on the top floor and I didn't have such beautiful views.  There is also a window at the bottom of the apartment where you can see a little of the lyceum.
Pablo Esteves, 4B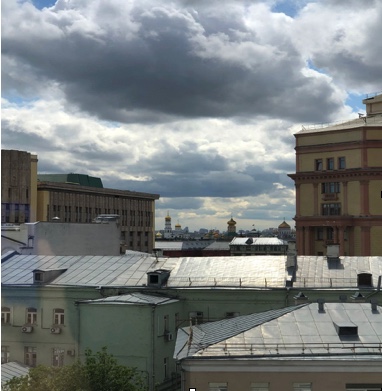 From my window
On the photo I see a lot of trees.  There is also a crossroads and cars in the parking lot.  Bottom of the photo is a tree with white petals.  Behind the trees you can see a white wide building that is littered with trees.  Behind it are the bank's offices.  On the right there are brick houses and on the right near the parking lot there is a block that is a power unit. INTERESTING FACTS: the white wide building is a historical military institute of Moscow.  Not far from my house is the movie studio « MOSFILM » which was making films in 1931.  Therefore, the street was named Mosfilmovskaya.  I like to spend time in front of the window when i do something, for example, when I have an English lesson or when it is raining.  Usually at this time I think what the good / bad weather is and when the isolation period will end.
Yaroslav Voiakin, 4B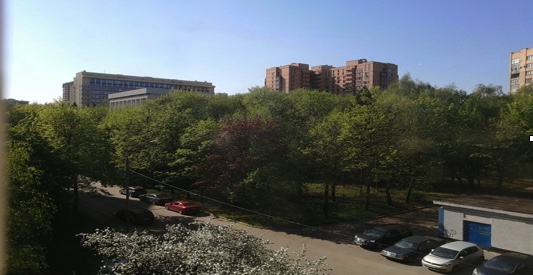 From my window
I have the view of Moscow City. Its incredibly beautiful to look out of the window at night. Except Moscow City I see a beautiful sky, the building which is like a square it's a sport club, the building which is in front of my window is a hospital.
I like to look out of the window in the evening because  I see very beautiful 🌇 sunsets.
I don't know any historical facts about the place where I live.
Sometimes when I have nothing to do I just look out of the window)
Katherine Akhmedova 5A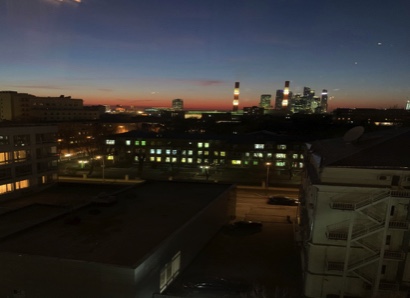 From my window
I live on the third floor. In my bedroom, I have a windowsill (a big one) with loads of pillows on it. When I sit on it and look out my window, the first thing I see are buildings. Many buildings, all different colours. I see two perpendicular roads. Next to these are trees. Different colours, heights and placements. I also see a nursery at the corner of my window.
I wish I knew more about the area where I live.
I love spending time by my window because as I mentioned, I have the possibility to sit comfortably by it and watch the sky and people. It's quite a nice view and it somehow calms me.
When i sit on my windowsill, I tend to think about everything and nothing. Life in general. I usually sit by my window when i'm sad so i'll just think about why i'm in this state. Somehow clouds are very therapeutic.
Nina Renouvel, 4A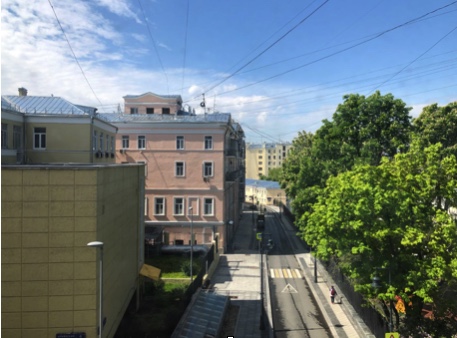 My view
This is the view out of my window, it is really nice. I have been living here for 2 years and it is really cool. Sometimes, I am sitting on the windowsill and I am thinking about the world, about my life and my decisions. I like to be in this place. It can help me to think straight and to relax. I don't know any facts about this house but I can tell you something.
1 year ago, when I was eleven years old, I was sitting on the windowsill and I was bored. I picked my camera and I zoomed on the house. I saw what an office worker was doing on his computer and it was funny because he was playing on websites. Behind the camera, I was laughing so much, it was so funny. I could see when the employees were arguing or chatting. I took this picture 2 years ago when I just arrived. I like my view and I like these trees in front of my window. But, I also like to see the cars and the peoples who walk down the street.
Iris Ponson, 5B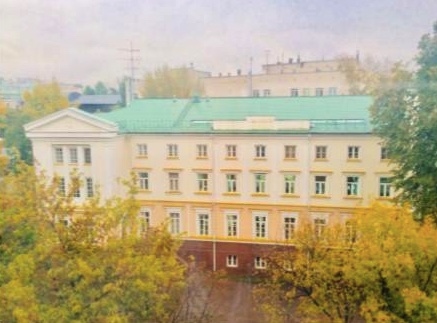 My view
From my room, I can see the little park with lots of trees so it is very nice and I can see the sunset which is always beautiful. I don't know any interesting things about my view but I do like spending time next to my window because it has a nice and cozy light and the windows are very big.
When I look outside I feel relaxed, peaceful and happy basically I only have good vibes. When it is raining though I feel a little sad and very sleepy.
Lily Aslanov 5C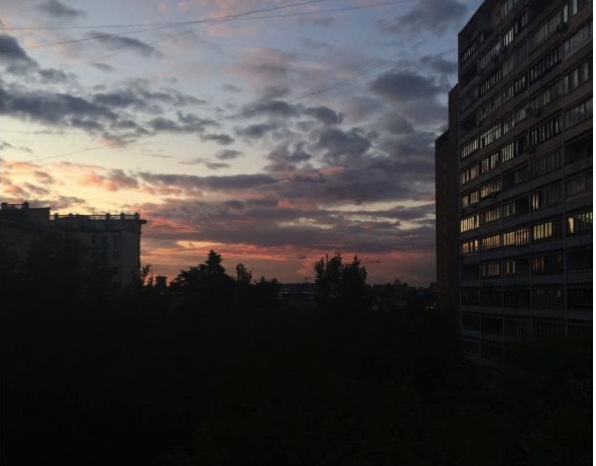 The view from my window
My view is really pretty and luminous we can see lots of apartments and a hotel in the back at night it's even prettier because the hotel have the lights on and there is a discotheque at the bottom left corner and because of it the sky at night is always changing colors – it's awesome. My building was built in the 1920s.
I like spending time by my window because I have a really nice view and I have a windowsill and I usually enjoy a cup of coffee and watch Netflix.
When I look at my view I think that the world is pretty small because I see pretty far of my window.
Angelika Lavrentiev 4B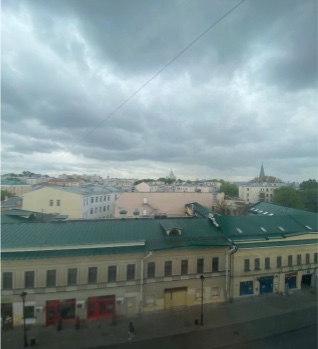 "The view from my window"
Nowadays, it's very important to have a nice view from the window. Staying at home all days long we look from the window much more often.
From my window I see a nice forest. I can see it up to the horizon. There are mainly birch trees in this forest. Now all the trees are bright green. Sometimes I decide to make a pause and to look at the sky and the sun above the trees. There is a small garden downstairs and I can see it as well. There are apple trees in the garden. They are blossoming with pink and red flowers. From the window they look like pink and red clouds. There is a basketball playground to the right. Also I can see a small road with cars.
Each time I look from my window I notice some changes. So it's always interesting.
Konstantin Makharine, 4A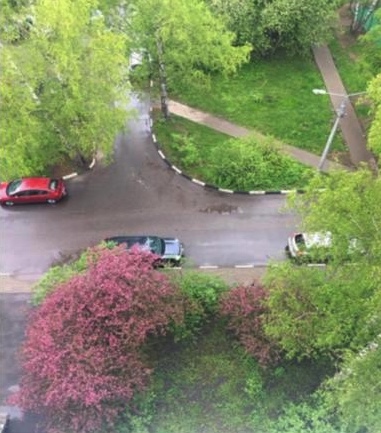 The view from my window
The window in my bedroom is a skylight- a window in the roof.
Lying on my bed I can look through it and see the sky and the clouds. I really like watching them as time goes by, and often I can see shapes in the clouds. Sometimes in the morning I can see the sunrise, which is a beautiful combination of orange and pink. Then the sky turns blue or grey and at the end of the day it is suddenly covered by a dark blue veil. When it rains outside, I can hear the pitter-patter of the raindrops on the glass, a sound which has a meditative effect on me. During a hailstorm, though, I wished the noise would stop.
I can also climb through my window onto the roof, where I can stay for hours. My flat is on the fifth floor so I can see tiny people walking by some buildings. I know all these buildings are very old, but I don't know exactly when they were built. When I look at this view I imagine the lives of the people who walk past. I wonder why they are so busy while I am just relaxing on my roof. Now, in quarantine, I can't see anyone. So I sit and I watch the trees, blown by the wind. Sometimes I can see a lady in the building in front. Everything is so silent. As if life had stopped.
Lou-Anne Bernard, 5B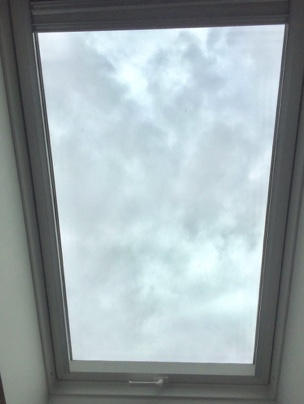 The View From My Window
I am in my country-house during the quarantine so through my window you can see our garden and the gazebo. There is also neighboring houses. At the back, you can see a field, then there is a forest and the best of my view is the sky with beautiful clouds.
Everything interesting I know about my view is that all the neighbors seen from my window have the same trampolines and bought them almost at the same time (including us).
I really like spending time by my window because I love the sky that is visible from there wich is amazing in that, it changes every day and never repeats. I can enjoy it for hours without doing anything.
When I look at the view I start to sort out old good memories and dream.
Sofya Pauzin, 5A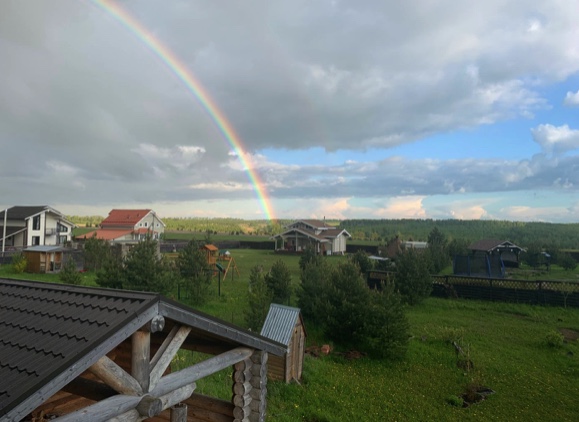 The View From My Window
So this is the view from my room's window. Since the lock down started, I like spending time looking at what's happening behind my window. But the moment when I most enjoy looking at it, is when it's windy and and sunny at the same time because I really like seeing how the trees move with the wind under the sun, it's just beautiful…too bad today is a rainy day. If you look behind the big gray building with many windows, you can see one of the seven sisters, it's called the « Red Gate Building ». The Red gate building is one of seven Stalinist skyscrapers, designed by Alexey Dushkin. Its name comes from the Red Gate square. The skyscraper was laid down in 1947 and completed in 1953. The construction of the tower was complicated by its location near the Moscow Metro tunnels and the Krasnye Vorota Station. Dushkin built a second entrance to the station into the ground floor of the tower, which opened on 31 July 1954. After being the headquarter of the Ministry of Construction of Heavy Industry the administrative part of the skyscraper also hosted the Ministry of transport construction. The building is also known as Lermontov Tower from Mikhail Lermontov and the Lermontovskaya Square, the name assigned to the Red Gate square between 1962 and 1986.
Telma Jimenez, 5C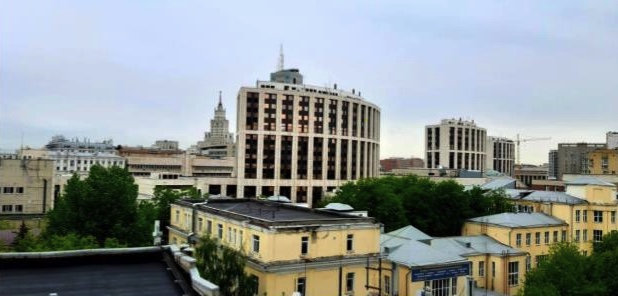 Vallentina Scherbakova